Royal Rolloffs Midwest Division
Royal Rolloffs Midwest Division offers commercial and residential Hook Lift Dumpster Rental Services, We are here to help you clear the clutter and manage the mess with our affordable dumpster rentals and junk removal services. Whether you're clearing clutter, remodeling or building, we have selections and service that will benefit your project. Throughout the years, we've become the leading provider of dumpster and junk removal services in the area by prioritizing transparent pricing, clear-cut communication, and reliable customer support that meets the needs of a range of residential and commercial projects.

Don't hesitate to reach out to our team if you have any questions by giving us a call at 660-238-6231 or book your roll-off container rental online now!

Royal Rolloffs Midwest Division is a locally owned and operarted business. We are a small business owner that feels every job is important and every client matters. Our Companys care about your projects, and we are her to assist in getting your task completed.

Royal Rolloffs is a dumpster service that is proud to be in business using innovative roll off products that allow us to deliver a dumpster to our customers in a truly convenient way. Royal Rolloffs offers easy call online booking. Our customers can go directly to our site www.RoyalRolloffsMidwestDivision.com view the products (our dumpsters), determine the one that works best, book the dumpster, delivery date and pay in moments. By Booking online the customer Does Not need to be there when the dumpster is delivered.

We offer on time delivery and pickup of our dumpsters. We make it a priority that we handle the delivery, swap out and pickup requests within 24 hours. Our drivers deliver, swap out ( change out dumpsters for clients needing more than one dumpster for their project ) and pickup, Monday through Friday from 7:00 am to 3:00 pm on a normal basis. We do offer emergency services for our customers on a case by case basis. There is a fee for this service. Feel free to contact us directly at 660-238-6231 and we will discuss if we can assist you in your emergency situation.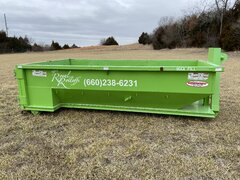 Dimensions
15'L x 8'W x 4'H
Included Tonnage
Up to 1 Ton included
Additional Days
:
$20/day
Extra Weight
:
$60/ton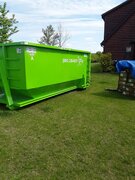 Dimensions
17'L x 8'W x 7'H
Included Tonnage
Up To 2 Tons included
Additional Days
:
$20/day
Extra Weight
:
$60/ton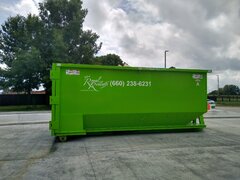 Dimensions
17'L x 8'W x 7'H
Included Tonnage
Up To 3 Tons included
Additional Days
:
$20/day
Extra Weight
:
3 TON MAX
We take just about everything
Some examples of the junk we haul away include:
Debris Disposal

Carpet/Pad

Water - Mold Debris

Shingles (18 Square MAX)
Construction Waste Removal

Flooring

House Cleanouts

Remodel Debris
Cabinet Disposal

Framing/Decking Disposal

Lights / Windows / Lumber

Junk Removal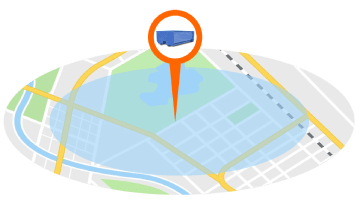 Dumpster Rental Service Area
We provide flexible and convenient Hook Lift Dumpster Rental. Our team can typically accommodate needs outside of our traditional service area, so give us a call at to see how we can make your life easier with reasonably-priced and reliable dumpster rentals today!
View Service Area